Testimonials
Here's what a few of our customers have had to say about us.
Have a testimonial of your own to share?
Send a Testimonial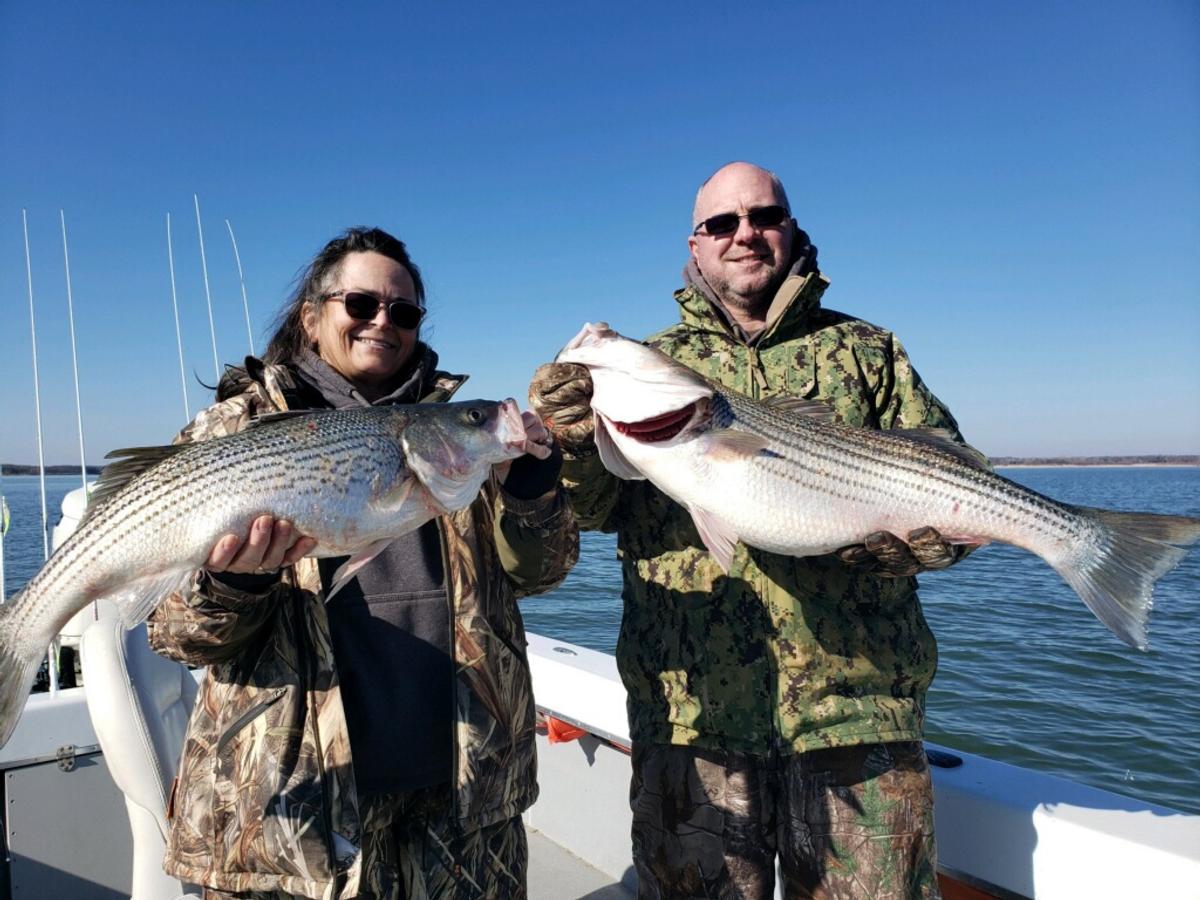 David and Katia
Winter 2023 - Mill Creek, Texoma
We are residents here at Lake Texoma. We have been on a guided trip before and can tell you we will be using Captain Stephen again!! Very knowledgeable and willing to share some tips. We highly recommend him, big fish and lots of fun!
Gerardo Guardiola
Summer 2022 - Forney, Tx
Our age group was from 13 to 70, and we all had a great time. Captain Stephen was friendly, and courteous to all of us. We caught our limit in about 4.5 hours. I would highly recommend using him, and will be using him in the future. Thanks for a great time, from the land Captain and my crew.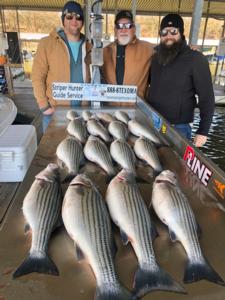 Steve & sons
March 6, 2020 - Fort Worth, TX
Me and my two sons went fishing with Capt. Stephen today. It was a tough day. I'm not sure why. It was a beautiful day although it was a bit chilly. One thing I do know for sure is that Stephen worked his tail off to get us on some fish. I'm pretty sure we went from one end of the lake to the other looking for fish. There's no telling how many miles we traveled. They don't call him the "striper hunter" for nothing. He's a consummate professional. Although we only caught about half of our limits, we had a great time and did a ton better than other charters today. One thing I can guarantee is, when we get ready to go striper fishing again, I will never call anyone but Capt. Stephen Andre. Thanks for all your hard work, Captain!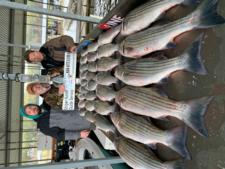 Danny Daniel
Winter 2019 - Rowlett, TX
Just finished our second trip we booked with Capt. Stephen... I really didn't think we would be able to top the success and fun we had with our first trip, I was wrong. The weather was cold and windy and thought it was going to be miserable. Fortunately we dressed appropriately and Capt. Stephen even provided us with some rain gear for an added level of warmth and protection. True to form, we arrived our first morning and Capt. Stephen had already been there for hours prepping to ensure we were ready to try and find some fish. Like the first trip he set off and strategically started working the lake.. Its amazing to watch how much effort he puts into trying to ensure you have the best experience. Both days that we fished we all limited out, stayed dry and warm and most importantly had a fantastic time. Working now to schedule our 3rd trip this upcoming spring with Capt. Stephen knowing that IF the fish are biting then without exception he will find them and teach us how to remove them from the lake and place them in the cooler.... Great guy, Great service...... Danny Daniel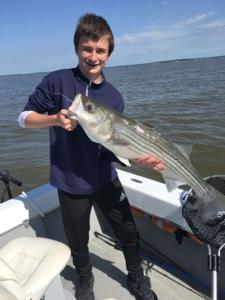 Eric Doba
Spring 2019 - Lantana TX
Took my dad, mom, and two boys fishing with Captain Steve Andre 5/5/19 and it was "The Best Fishing Trip Ever". We had plenty of space on the boat for all of us and he made it simple. We caught 29 fish between us and my son even caught a 14 lbs striper. I would 100% recommend this guide for a great day of fishing on a lake with big fish. Thank you again Steve, we will be back!
BILLY ALLENDER
Spring 2019 - Perry, Ok
Been to this lake 15 to 20 times, this is by far the best trip that we have had. Caught our limit in 3 hours but continued to fish for 2 more hours. 5 of us caught 70 to 80 fish and returned 20 to 30 back into the water. Multiple 8lbs to 12lbs, would definitely recommend to anyone.
JERRY OSBORN
winter 2019 - Pottsboro Tx
We recently had the pleasure of fishing for striper on Lake Texoma with Captain Steve Andre. The trip could not have been better! We caught out limits in the first hour. The remainder of the trip (about another 4 hours) We caught and released about 65 more beautiful fish, Steve was both professional and friendly. We could not have been more pleased and can't wait to come back. Probably in the spring. If you want to catch striper and you want the best guide. Give Steve Andre a call, You won't regret it.
Michael Perlick
Winter / 2019 - Arlington, Texas
I have previously gone on 4 other Texoma trips in the past and by far our experience with Capt. Stephen was the best. The first Striper was caught 30 seconds after putting a line in the water. We caught our size limit in 25 minutes and our actual limit within 2 hours. The rest of the day was spent "Catch and Release" The three of us had the time of our life. Capt. Stephen really knows his stuff and is a pleasure to be around. If we had no action in a few minutes, he moved us until he found the fish. I will use no one else in the future. Well worth the money.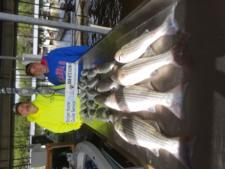 Mike Collins
Fall 2018 - Altoona Kansas
My friend Steve and I booked a striper trip with Capt Stephen Andre's on lake Texoma for the 10th of Oct 2018. Heavy rain had saturated the area just the day before causing the lake to begin to muddy and steadily rise. With not much optimism we showed at the dock at 6:30 am ready for success or failure either way determined to enjoy ourselves. We soon realized we had been concerned for nothing. Captain Stephen had us fishing by 7am and by 9:30am we were limited out. We had our 4 fish over 20inches (approx 4 to 6lbs)along with our other 16 nice fish. Oh did I mention we realeased 4 to 5 additional fish that would have weighed in the 4 to 6lb range as well ? We can't wait to get back to Texoma with Capt Steve. I would highly recommend Striper Hunter Guide Service to everyone looking for a great time and 100% effort from the Captain. Thank you for a great experience and hope to see you in Jan or Feb of 2019.
Tim Haney
Early summer 2018 - Mulvane, Ks
As a scarred Vet of Guided fishing trips on Fresh, Salt, and Brown waters... I've come to judge the day by reading the Guide and his gear from the Boat on down to knot tying ability. After a previous visit to Texoma in the Spring with another Service found the Stripers suffering with lockjaw, no fault of the Service.... it's called Fishing for a reason, I was reluctant to throw down the bucks for another try. We found this Guy with an open date, and we hammered them today! Here's the basics, His boat and it's mechanical condition are spotlessly clean and obviously well maintained the minute you step in, his Dock space is well organized and efficient with well thought out solutions for pre and post trip. The fishing rigs are good quality with a nod to toughness, over looking pretty. He is not afraid to correct you if you are doing something that will affect the safety of everyone else or the vessel. He counted our fish over and over till he was sure we got cleared for catch and release. Our group is fairly 'low maintenance , but I would still recommend this Guide to anyone looking for a gentle introduction to the Striper World. Just remember... it's called Fishing, not 'going and getting' whooooo!
Brad Seay
Spring 2018 - Willow Park TX
I booked a trip for me and my son to go striper fishing with Capt. Stephen. We had a blast, Capt. Stephen kept us on fish the entire time. He was very professional and knowledgeable about striper fishing. My son is still telling stories about it and yes he is a true fisherman because the length of the fish he caught grows each time he talks about it. We started fishing around 7:30am and limited out around 2:00pm. Stephen cleaned and bagged our fish. Can't wait to book another trip this summer. Thanks again for a great trip Capt. Stephen.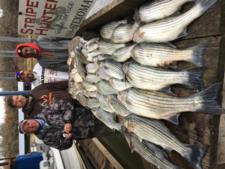 Capt. Mark Conroy
Late Fall 2016 - Sanger, Texas
As a professional fisherman myself I am very hard to impress. Capt. Stephen and Texoma Striper Hunter are the " reel " deal! The boat was made for fishing and my party and I were comfortable all day even though it never got above 50. He had us into fish within 10 minutes after a short boat ride and it was non stop from there til we left 5 hours later! But more than the awesome fishing and beautiful scenery Capt. Stephen was a pleasure to spend the day with. He was very attentive to my guys that needed assistance, made sure he always had the boat where the bait balls and his head was on a constant swivel watching for birds to make our day even better than it already was. In short if you haven't fished with Texoma Striper Hunter and Capt. Stephen your missing out! I will definitely book him again soon!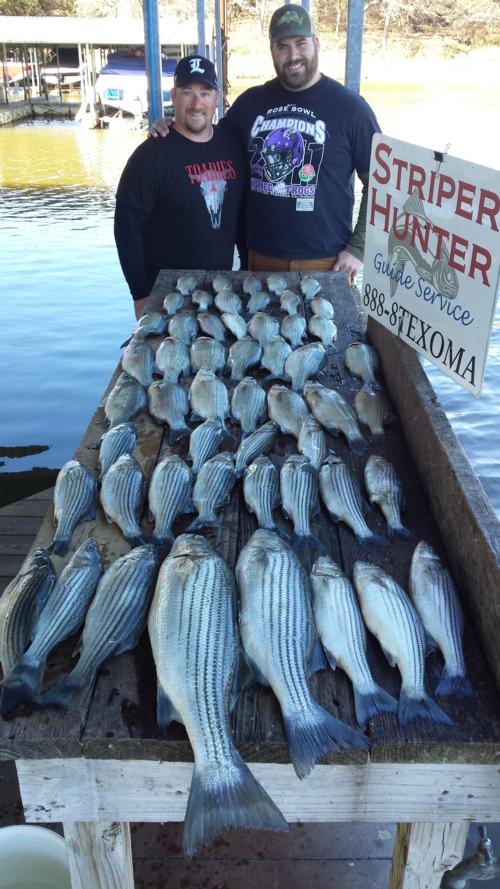 Preston
Winter 2016 - Fort Worth, TX
Stephen was a great guide, top to bottom, start to finish. Friendly and professional. For roughly $150 each we had a full 5 hours on the water. I had heard stories of guides who "race to get limits" so they can get back early. Not Steven. He worked hard chasing schools to get us a quality limit, catching and releasing almost as many fish as we kept. After pictures, he thoroughly cleaned our catch. We each left with two gallon freezer bags of ready to eat, clean and tasty filets. He even gave us a striper receipe book! I have fished many places with many guides, and I can't think of a better value. We will be back for more.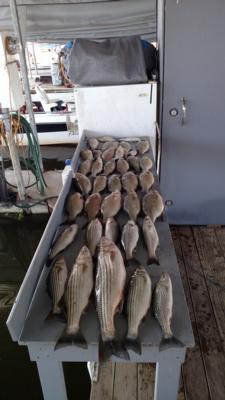 Bob Robinson
Fall 2016 - Yantis, Texas
Captain Steve worked hard to keep us on the fish. He was successful in his effort and provided an AWESOME day of striper and sandbass catches. I highly recommend his service if you want to find some great fishing on Lake Texoma. I WILL be back. Thank you Captain Steve.
Gary Adams
Spring 2016 - Checotah, Oklahoma
Wow, what a GREAT Day we had. It was chilly due to a Cold Front, but we stuck it out and caught our limit of Striped/Hybrid Bass. We also had a Blast catching a mess of White/Sand Bass. We each caught a Striper over 6 lbs. Can hardly wait until our next trip with Capt Stephen Andre. He worked hard for us and it paid off. He also took the time to do a great job of completely cleaning our fish, which some guides don't do. I would recommend him above other guides I've been out on the water with. If you are planning a fishing trip give him a call, you will have a great time. Thanks again Capt Stephen.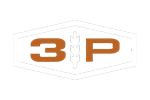 2023 Photos & Text Copyright - © Lake Texoma Striper Hunter Guide Service
Fishing Guide Websites by 3plains