Testimonials
Here's what a few of our customers have had to say about us.
Have a testimonial of your own to share?
Send a Testimonial
Brad Seay
Spring 2018 - Willow Park TX
I booked a trip for me and my son to go striper fishing with Capt. Stephen. We had a blast, Capt. Stephen kept us on fish the entire time. He was very professional and knowledgeable about striper fishing. My son is still telling stories about it and yes he is a true fisherman because the length of the fish he caught grows each time he talks about it. We started fishing around 7:30am and limited out around 2:00pm. Stephen cleaned and bagged our fish. Can't wait to book another trip this summer. Thanks again for a great trip Capt. Stephen.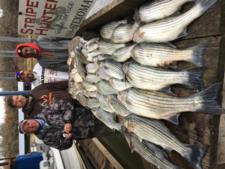 Capt. Mark Conroy
Late Fall 2016 - Sanger, Texas
As a professional fisherman myself I am very hard to impress. Capt. Stephen and Texoma Striper Hunter are the " reel " deal! The boat was made for fishing and my party and I were comfortable all day even though it never got above 50. He had us into fish within 10 minutes after a short boat ride and it was non stop from there til we left 5 hours later! But more than the awesome fishing and beautiful scenery Capt. Stephen was a pleasure to spend the day with. He was very attentive to my guys that needed assistance, made sure he always had the boat where the bait balls and his head was on a constant swivel watching for birds to make our day even better than it already was. In short if you haven't fished with Texoma Striper Hunter and Capt. Stephen your missing out! I will definitely book him again soon!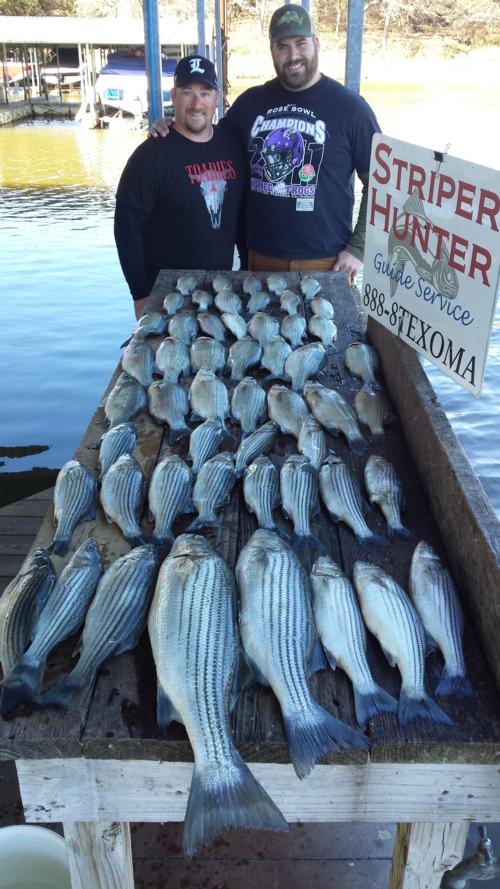 Preston
Winter 2016 - Fort Worth, TX
Stephen was a great guide, top to bottom, start to finish. Friendly and professional. For roughly $150 each we had a full 5 hours on the water. I had heard stories of guides who "race to get limits" so they can get back early. Not Steven. He worked hard chasing schools to get us a quality limit, catching and releasing almost as many fish as we kept. After pictures, he thoroughly cleaned our catch. We each left with two gallon freezer bags of ready to eat, clean and tasty filets. He even gave us a striper receipe book! I have fished many places with many guides, and I can't think of a better value. We will be back for more.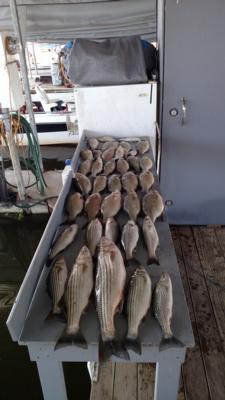 Bob Robinson
Fall 2016 - Yantis, Texas
Captain Steve worked hard to keep us on the fish. He was successful in his effort and provided an AWESOME day of striper and sandbass catches. I highly recommend his service if you want to find some great fishing on Lake Texoma. I WILL be back. Thank you Captain Steve.
Gary Adams
Spring 2016 - Checotah, Oklahoma
Wow, what a GREAT Day we had. It was chilly due to a Cold Front, but we stuck it out and caught our limit of Striped/Hybrid Bass. We also had a Blast catching a mess of White/Sand Bass. We each caught a Striper over 6 lbs. Can hardly wait until our next trip with Capt Stephen Andre. He worked hard for us and it paid off. He also took the time to do a great job of completely cleaning our fish, which some guides don't do. I would recommend him above other guides I've been out on the water with. If you are planning a fishing trip give him a call, you will have a great time. Thanks again Capt Stephen.