Lake Texoma Fishing Gear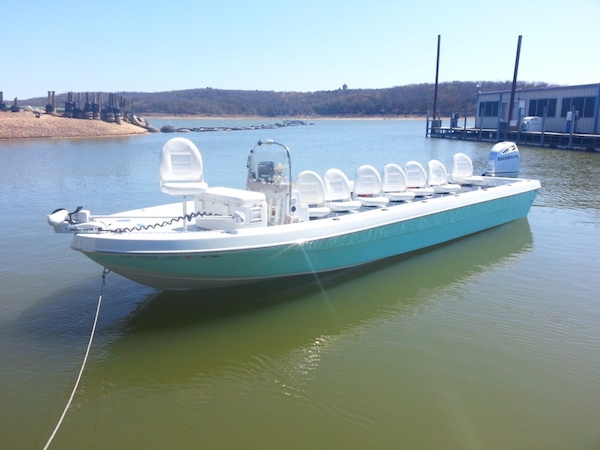 Fishing Gear for Lake Texoma- 26' Falcon Boat
We use only the best Fishing Gear on Lake Texoma to make sure you put big Striped Bass in the net! You'll be fishing on a custom 26 foot Falcon center console. This boat is very safe in big waves and has plenty of room for 6 people to fish along with room for your cooler, food, drinks and whatever you would like to bring…I even had a dog on board for one trip! It's your trip, so make yourself at home. I redesigned this boat several years back and rebuilt it specifically for Lake Texoma Striper Fishing and customer comfort and it works very well. The boat is equipped with all the Coast Guard required safety equipment. The boat is equipped with a Bluetooth stereo, so bring your Bluetooth player and we can listen to your favorite tunes while we fish.
The rods and reels I provide are heavy enough to handle a big striper, but not so heavy that they wear you down while casting. I have baitcasting reels and spinning reels, so I can accommodate ANYONE! I can teach just about anyone to cast if you need some help. For the more experienced fisherperson, the bait casters are the way to go. Have you wanted to use a bait caster, but never had any luck with them? I can help you out. If you have a favorite rod and reel, feel free to bring it along and I'll tie on the lures we are using for our Lake Texoma striper fishing.
I have comfortable life jackets for everyone, including children. If your kids are under the age of 13, the law requires them to wear a life jacket.
You'll have your own seat in the boat and no one shares a seat. Each seat has a small amount of built-in dry storage to keep your valuables dry while on the water.
I also have lightweight rain gear should we run into rain.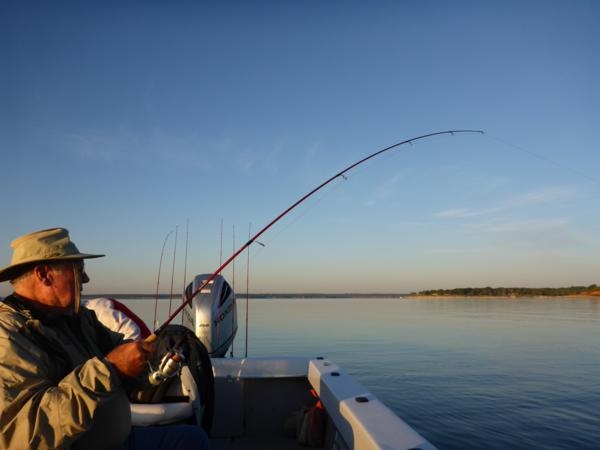 Lake Texoma Fishing Trip; What to Bring
A cooler to take your cleaned filets home with you
Wear warm clothes and gloves if it is forecasted to be cold
Wear light colored loose clothing if it going to be hot
Any food, drinks, or beer you want. I have plenty of room on the boat for your cooler. Bring plenty of water.
Bring your camera and I'll take pictures for you while we catch Lake Texoma Striper
Sunscreen and hat
Rain gear (if needed)
Lake Texoma fishing licenses can be purchased here (Texas Parks and Wildlife) or at Walmart or Academy Sports
Guaranteed Guide Service-Stephen Andre
I guarantee you that I will work my tail off to catch as many fish as possible. I guarantee you I will use every lure I have and drive all over the lake to find fish if I have to. There are some occasions when fish just will not bite due to weather, boat traffic, water conditions, etc. I can not guarantee you that we will catch fish on your trip. No guide can control if the fish will bite or not. We are a fair guide service and I want you to be happy. If we don't catch any fish, the next trip is on me!
SaveSave