Lake Texoma Fishing Guide Prices
Lake Texoma Fishing Guide Prices
Stephen Andre's Lake Texoma Fishing Guide Prices are very competitive. The following are my rates which you'll find are in line with other Lake Texoma fishing guides. I provide a big comfortable boat, all the gas, up to date fishing rods and reels, the hottest lures, instruction if needed, decades of experience, proper fish cleaning and 5 hours of fun on the water. AND while I'm cleaning your fish, you all can fish for some HUGE catfish from my dock!

1-4 people…$550.00 (minimum charge)

5 people…$675.00

6 people…$800.00

1-3 people…$425.00 (minimum charge)

4 people…$550.00

5 people…$675.00

6 people…$800.00
Lake Texoma Guide Discounts
I DO NOT charge for lost lures or broken rods. Some guides do, but I look at that as the cost of doing business. That's just the way it is! KIDS DISCOUNTS ARE AVAILABLE...Call or text for details...972-816-6000 Contact me about pricing for groups larger than 6.
There are wonderful lakeside cabins available at Mill Creek Resort and Marina as well...just a short walk to my boat dock! Book Your Fishing Trip Today or call Capt. Stephen Andre' at 972-816-6000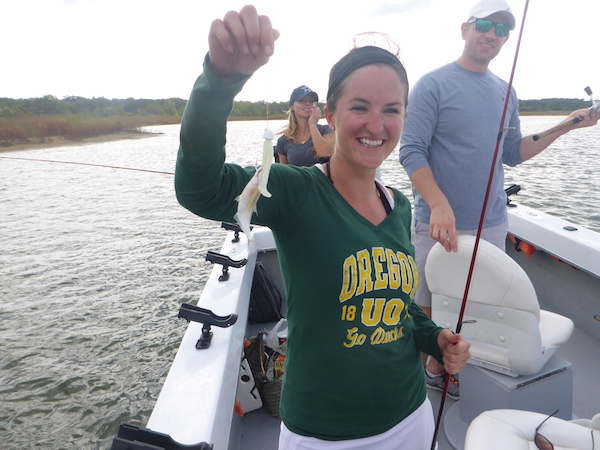 To Book a trip or reschedule your trip:
To book a trip, I'll need your credit card number and a $250.00 deposit to hold your chosen fishing date for Lake Texoma fishing. If for some reason you have to reschedule, the deposit will be moved to the new date if you reschedule at least 10 days before your chosen date for the trip. If you reschedule or cancel your trip within 10 days of your trip, and I cannot find a replacement trip, you will forfeit your deposit. I understand that things happen, and I will work with you to come up with a fair arrangement for both of us under special circumstances. If you book a trip and do not show up at the dock to fish on the chosen date of your trip, I will bill the full amount of the trip to your credit card. Please understand that I make my living as a Lake Texoma fishing guide, so I cannot afford canceled trips or no-shows…I need to provide for my family too!
Lake Texoma Weather Forecast
If a trip is canceled at the dock due weather safety reasons, we will reschedule for a future date. If you cannot fish a future date, your deposit will be refunded. We can't control the weather, so I think that's the fair solution.
Lake Texoma Fishing License
Since Lake Texoma is located in both Texas and Oklahoma, a Lake Texoma license is usually the best way to go. This allows you to fish anywhere on the lake. These licenses cost $12.00 and are good until December 31. The can be purchased at any Wal-Mart and most local stores near the lake. Be sure you ask for a "Lake Texoma" fishing license. You can also buy them online from the Texas Wildlife Department or the Oklahoma Wildlife Department. Texas Wildlife Department Oklahoma Wildlife Department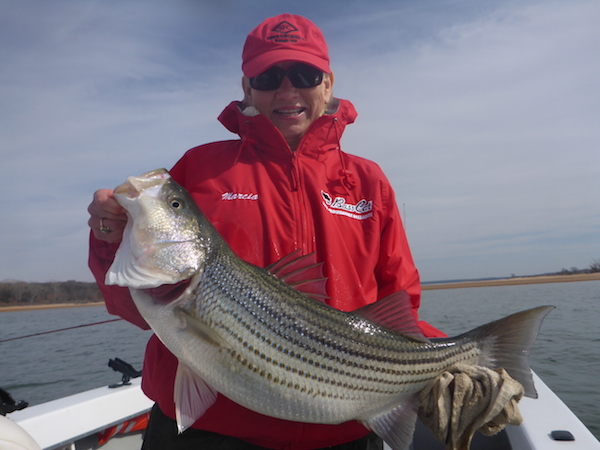 Important Texoma Fishing Information
The Game Wardens do patrol the lake and may ask to see your license. We obey all laws and regulations.
Everyone fishing in the boat age 16 and over will need a license, unless they fall into one of the exceptions below.
Children under 14 do not need a license.
Children under 16 who live in the following states do not need a license: AL, AK, AR, CA, CT, DE, GA, IL, IN, KS, KY, LA, MD, MI, NH, NY, NC, ND, OH, OK, TX, or WI
Oklahoma residents that are 64 or older can fish in all public Texas water without a fishing license. All they need is their OK driver's license or ID.
A Texas resident born before September 1, 1930 does not need a fishing license in Texas or Oklahoma.
A Texas resident who is 65 or older and was born on or after September 1, 1930 has to buy a Texas Special Resident license (reduced price) to fish in Texas. No fishing license is needed to fish in Oklahoma.
Non-residents 17 or older from all other States must buy a fishing license to fish in Texas.
Texas and Oklahoma have a reciprocal agreement. An Oklahoma resident 65 or older can fish in Texas without a license, and a Texas resident 65 or older can fish in Oklahoma without a license. However, to fish in Oklahoma or the Oklahoma part of Lake Texoma, Oklahoma residents will need an Oklahoma Senior Citizen License.
Oklahoma residents born on or after January 1, 1923, upon reaching age 64 (or those who turn 64 during the calendar year) may purchase a Senior Citizen License which is good for the rest of their life. Oklahoma residents born before January 1, 1923 are exempt but must carry proof of age such as a driver's license. Senior Citizen License applications are available through Department headquarters, field installations and license vendors. They can only be purchased through the Oklahoma Wildlife Department headquarters. SaveSave