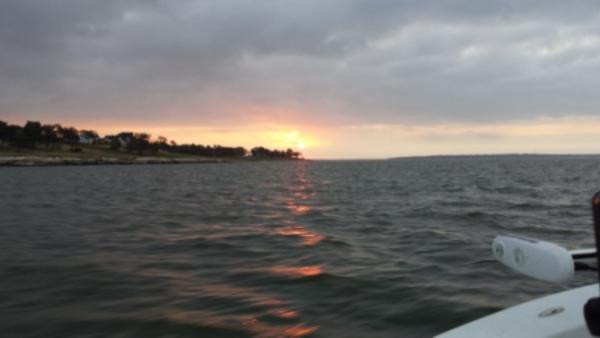 Lake Texoma fishing has been awesome; the best it has been in a while!! The cooler weather and cooler water has had them fired up the first week of November. I'm catching fish in shallow water as well as deep water. I'm using three-inch swim baits in the shallow water with a 3/8 or 1/2 oz head. Striper and sandbass have been cruising the shallow water rocks and clay banks. A slow retrieve along the bottom will get you a bite that you will not forget!
Texoma Fall Striper Fishing 2016-Guide Stephen Andre
In the deeper water fish are starting to gather into large schools on Lake Texoma as they typically do in the wintertime. They are foraging on large schools of threadfin shad stuffing their bellies getting ready for the colder winter months and preparing for their Spring Spawn Run. The birds have helped lead the way to these deepwater aggressive feeding fish. It has been a mixture of striper and sand bass, with some of the biggest sand bass I've ever seen.
The larger striper are beginning to show up as well; they will inhale a slab in that deep water and then you are in for a fight cranking these fat fish back to the boat! If the fish are showing up in deep water I'm using larger slabs to help keep the lure down vertically underneath the boat which makes for a better presentation to the fish.
Vertically jigging straight off of the bottom or sometimes ripping and dropping the slab back down through the school has been working in most cases. A little bit of noise can help get their attention as well; such as beating the water with an old fishing rod simulating the sound of thrashing fish on the surface.
The size of fish has varied from just a few inches up to 13 pounds. The lake has a wide variety of different sized striper and sand bass right now. Sometimes the action is so fast you're lure will not even make it to the bottom! I am sifting through the smaller fish only keeping the little ones that are injured, as well as keeping the good-sized keeper sand bass and striper. This is been a great start to the Fantastic Fall Fishing on Lake Texoma this year!
This time of year people are beginning to think about the holidays and not so much about fishing, however, this is one of the best times of year to be on Lake Texoma. There are not as many boats competing and the fishing can be spectacular! If you are interested in getting in on some of this fast action with the opportunity to catch a big striper give me a call at 888-8TEXOMA or visit my website at www.laketexomafishingguides.com. If you prefer to text, feel free to text me at 972 -816-6000 or email at stephen@texomastriperhunter.com.
Tight Lines Everyone!!
Texoma Guide-Capt. Stephen
Posted in: News, Lake Texoma