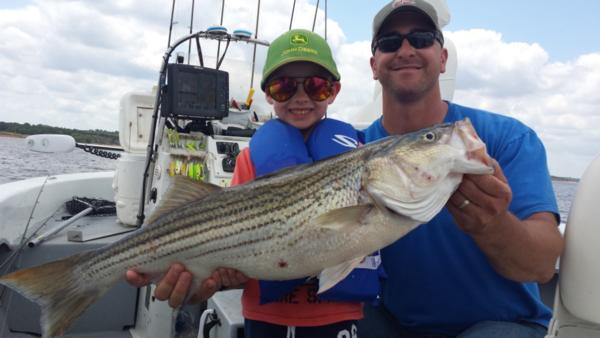 Lake Texoma May 2017 Fishing Report
The fishing on Lake Texoma has been wonderful this Spring and the Summer bite should be great as well!!
I've been catching them from 3 to 35 feet of water either on swimbaits or slabs. Recently the swimbait bite has been best for me for the 15-19 inch Striper as well as the bigger 10-13 lb striper! Slabs will give you great action with some smaller fish as well!
Striper and Sand Bass are returning from the spawn daily and will be extremely hungry and cruising points, ledges, and chasing bait up onto the flats to fill their bellies. The Sand Bass will pile up on points with deep water access and will be easy to find with your electronics. You can either drift over these points or anchor up and expect some fast action bouncing slabs off the bottom or reeling them up fast through a thicker school. The striped bass will be cruising deepwater ledges searching for an easy meal. Using your electronics, scan these ledges and locate a cluster of fish. Stop and drift the ledge and fish using slabs bounced off the bottom or heavy deepwater swim baits slow rolled just above the bottom to catch you some big, hungry, line stripping Striper!
As the water continues to warm the schooling size striped bass (box fish fewer than 20 inches) will form large schools and cruise open deepwater chasing bait. A good method for catching these open deepwater fish is using heavy slabs and dropping them down through the school and then reeling them back up as fast as possible through the schools of Striper. We call this "rippin' slabs"! This technique can be very effective on deepwater schools. Sometimes these fish hit so hard while you're rippin' it will almost yank the fishing rod right out of your hand! Often times the larger Striper won't be in these large deepwater schools of box fish; they often like to cruise around in smaller groups or even by themselves, so don't be afraid to look around away from all the boats and outside the main schools of Striper for some of these bigger fish.
The Sand Bass and Striper will also chase bait from deepwater up onto some of the numerous flats on Lake Texoma. They will chase this bait up into as shallow as 10 feet of water. Watch for schooling fish on the surface, or seagulls diving, or also keep an eye out for the large blue herons hovering over the water. These blue herons are some of the best fish finders on the lake…Don't ever ignore them!! Always have a good pair of binoculars on board your boat to help you out.
It will be a Super Summer on our great Lake Texoma! Come on out and rent a cabin, camp out, rent a boat or CALL ME and come on out and enjoy everything Lake Texoma has to offer!
Best of luck and I'll see y'all out there!
Capt. Stephen
Posted in: News, Lake Texoma