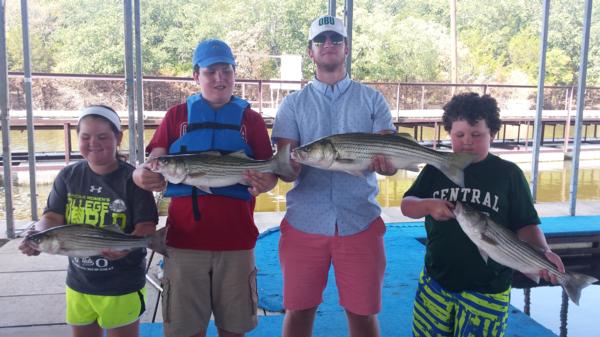 Things are darn near back to normal!! The water is back down, the marina is back and in good shape and I have been catching big fish, small fish, losts of fish, and occacsionally, not so many fish...I'm not gonna lie!!!
The water has finally cleared up and the water temps are good, we've got plenty of bait in the lake and fishing has been good on average. I'm catching sand bass and small stripers on slabs and some BIG stripers trolling. On most days I can find us some action...
All in all fishing is good considering the lake is still recovering a bit from the flood. They have finally closed the flood gates which will, in time, improve the bite even more. Fall is around the corner and as the water cools, these fish will begin their yearly gorging of shad to get ready for winter and the spring spawn. Topwater season is right around the corner and is some of the best fishing action you will find anywhere!!
Call me for a report or to book a trip or for some advice if you are headed out on your own.
See you all on the water!!
Capt. Stephen
Posted in: News, Lake Texoma