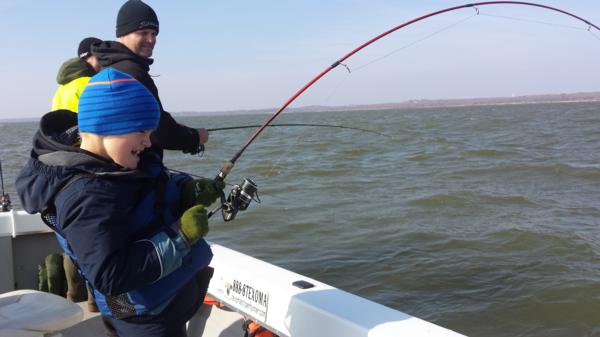 Lake Texoma 2016; a year of recovery for Lake Texoma after the devastating flood of 2015. The beginning of the year was a struggle due to muddy water resulting in fish that were very reluctant to eat and catch. As the water began to clear up a bit in April and the water warmed, we were suddenly blessed with a population of Sandbass unlike Lake Texoma had hardly seen in recent decades; we could see the beginning of the recovery and a fishing light at the end of the tunnel!
As we moved into the late spring and early summer the water cleared more and the amount of keeper Sandbass that I caught was just unbelievable. Hundreds and hundreds of Sandbass on some trips. Mother Nature works her magic in strange ways, and as we did lose some Striper, we also gained unbelievable amounts of Sandbass from flooding lakes upstream. A true blessing from Mother Nature, these Sandbass kept most of us guides in business throughout the summer. Mixed in with those keeper fish were what seem to be an endless supply of juvenile fish resulting from successful spawns of the past two years. Given the amount of juvenile fish I have seen, and the fact that they do grow very quickly, the future looks extremely fishy! By Midsummer I was cleaning coolers full of keeper Sandbass, and a few Striper began to show up as well. As the summer progressed we kept catching Sandbass and kept catching more and more Striper, releasing the striper in hopes that they would grow up and reproduce to help the recovery of Lake Texoma.
When fall rolled around, the Striper really began to show themselves. I started keeping a few Striper along with the limits of Sandbass that we were catching and cleaning. I knew as the water cooled even more the Sandbass bite would slowly diminish as these fish begin to think about spawning up the rivers in January. To be honest I was a little concerned that when the Sandbass bite slowed that our catch numbers in general would slow down for all the fish. BUT, then it happened…just a few weeks ago. Some big striper, some good fat 16 inch striper, and a bunch of 9 to 11 inch striper begin to show up here and there. It was exciting to see!!
These last couple of good cold fronts finally dropped the water temperature down to the lower 50's, and I'll be honest, I have no idea where the Striper have been hiding, but in the last two weeks they have really made a showing. Just yesterday we caught a three-man limit of stripers, had all of our overs up to 9 pounds, and threw back another 60+ striper, and 6 Sandbass. Lake Texoma is a remarkable body of water. Throughout the droughts, the floods, the bait kills, the algae; the way Lake Texoma takes care of herself never ceases to amaze me.
In the last week I have abandoned the slab spoons that have been really effective all year, and been casting swim baits and catching Striper in 20 to 30 feet of water slow rolling the swim baits along the bottom, or maybe just 5 to 7 feet above the bottom. I've even had some good catches in shallower creeks as well. The bite can be light but it is definitely detectable, and with a good hookset, you're in for a really good fight, even with the smaller fish as they are frisky! As the winter continues this bite should remain pretty consistent. Hopefully Mother Nature will give us a little bit of a break after the roller coaster that we've been through from the past year and a half with the flooding and recovery. I am very fortunate to do what I love for living and even more fortunate that I'm able to do it on such a great body of water like Lake Texoma.
Some of the pictures from last couple weeks:
I am anticipating that 2017 is going to be an awesome year on the Lake Texoma. I know it's only December but remember Spring Break will be here before you know it. The earlier you book a trip the more likely you are to get the day you would like. I'll be running 2 trips a day starting mid March, so you can have a choice to fish morning or afternoon to fit your schedule. I am beginning to book trips for the Spring, so don't hesitate to call or email and get your trip on the books. I'm also implementing an online booking system where you will be able to choose what day you want to fish and pay online as well. This will allow me to be more accessible to you for scheduling your fishing trip to meet your needs while I'm on the water. I know things happen in life and fishing trips may have to be canceled or rescheduled or moved or whatnot, that's just the way it is. I'm very flexible when it comes to that.
If you want to get a trip in before the end of the year I have some weekdays open.
I am also reworking my website to be more user-friendly and have added some fishing articles, recipes, service reviews, and other useful links!
I really appreciate all of you that have fished with me this year on Lake Texoma and also at Lake Tawakoni. I will remain on Lake Texoma for here on out and I'm looking forward to a very busy, line stretching, fish cleaning, and successful 2017!
Tight Lines!!
Texoma Striped Bass Guide-Capt. Stephen
Posted in: News, Lake Texoma